Description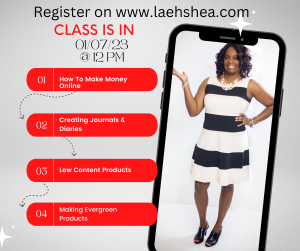 Making Money Online is something that I do passively.  For years I have found small creative ways to generate money in times of need, emergencies, or building my retirement.  A few years ago, I was a business coach and like many of you, bought every book, attended every conference, and purchased a lifetime of coaching.  But, to be totally honest, I never achieved or got the results most coaches said that I would.  And it wasn't for lack of trying because I did the work.
What happened next, was that I gained a lot of experience.  I've been a career student of life and academics.  I study to study.  But, as  I age, I want and crave for simplicity.   I want to travel guilt-free and eat at fine establishments guilt-free.  What that meant was that I had to create income streams that did not influence or affect the economy in my household.  Through experience, I learned how to do websites (only because those I paid never completed the work) and I learned graphic design ( because I would wait forever for a logo to be completed).  To be blunt, I paid a lot of professionals that did not do what I had paid them to do.   oh well!
This process gave me life lessons and some skills.  This class will teach you some of the things I learned along my journey.  If you want to make money passively this class is for you.  I walk you through the steps of some of the things I do to this very day to make money online.  This first class of 2023 will show you how to make money creating your own diaries, journals, or planners.  I will teach you how to use programs with no graphic designer training at all.  You will learn the programs, and software to use to create products you can sell on FB, Etsy, and other platforms to make money passively.  By the end of this class, you will know how to create low-content materials.  I will be straight with you, so many people are making money this way on the internet.  I'm not saying you will make six figures but you can.  But, if you need a few hundred to a few thousand, you can do this with some effort.
I hope to see you in class.
AFTER PURCHASE YOU WILL RECEIVE A LINK FOR THE CLASS VIA ZOOM PRIOR TO CLASS.   IF YOU HAVE ANY QUESTIONS, PLEASE CONTACT THE OFFICE AT 706-507-5420.